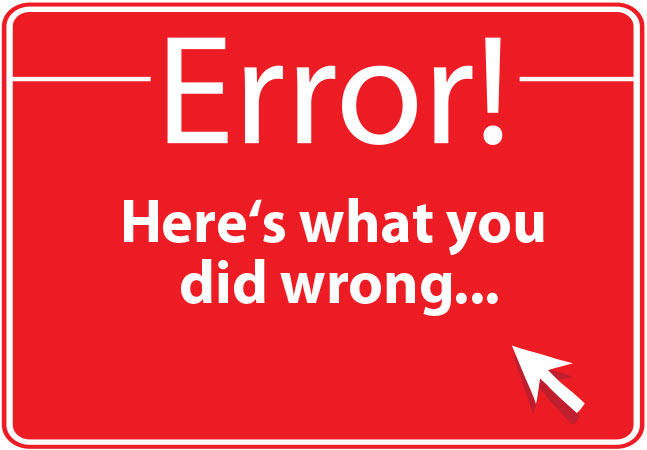 Picture via daimto.com
The brochure is by far the most used — and misused — tool in business today, whether used online or offline. Tracey Dooley explores what you should focus on (and what you should definitely NOT do), as well as some best practices, to ensure your brochure brings in new business…
Brochures have held an important place in marketing plans for longer than most of us can remember. Whether you tout the printed version, or prefer e-brochures or digital brochures, they all can be an easy and highly profitable addition to your marketing arsenal, adding credibility to any business. And there is no doubt they have the ability to generate new leads and sales as well as increase revenues.
So the big question is: Why do so many of them fail?
Let's take a look at seven of the most common-but-oh-so-easy-to-make blunders that so many businesses make with their brochures:
1. Perhaps the biggest mistake is that people talk about features instead of showing any benefits. You know the type. The ones that tell you all about the business, the products, the awards the business has won. Like, "Who cares?!"
Most of the brochures that you see out there are awash with glossy statements, ego trips and product and service hype that do absolutely nothing for the reader.
What's important to remember here is that a brochure is NOT about tooting your own horn, but rather about showing previous, current and prospective customers how you or your company can help them solve their problems, or fulfill their needs.
2. Just as big a mistake is not knowing the main purpose of your brochure. You shouldn't create a brochure just because you think you should, without giving it much thought. Instead, you need to be really clear on what you want your brochure to do. By exploring its main purpose, you will be able to determine the brochure's content.
You might want to hand out your brochure at trade shows, for example, in which case the content should focus on educational or valuable non-promotional content that prospective customers will want to keep as a reference.
A promotional brochure aimed at receiving enquiries from prospects should ideally have a tear-off, mail-back section to fulfill that requirement.
If it's targeted at people who don't know your business or your product/service, then your copy should explain how they gain by choosing YOU over the competition.
Finally, if you have a beach-hut for hire, your target audience will be those people who love beaches and so would want to holiday by the beach. This brochure might be available through consumer travel conferences.
3. Most brochures waste the all-important cover page by displaying just a company logo and name. This is not an attention-grabber and will not lure anyone to read on.
Instead of a boring "Philip Pipe Pensions," for instance, try something like, "Puzzled by pensions? Want to know how you can guarantee a big payout when you need it most in life?
A big targeted, benefit such as this will make an appropriate prospect think, "Yes!" and look inside. In fact, the best combination is a headline and a graphic or other visual element on the cover to draw in the reader.
4. Another big brochure blunder is trying to include everything but the kitchen sink. No one brochure can get away with trying to be everything to everyone. It simply waters down the overall effectiveness of the brochure. Also, putting in detailed product specs will just bore your reader or confuse her!
If you serve two or more different markets, create a folder-style brochure with individual fact sheets that addresses each audience. Or if your services or product lines are complex, highlight the key benefits and use client testimonials to explain how things work.
5. One of the major mistakes I've seen a lot of recently is choosing looks over content. Of course you want your brochure to look professional and attractive to the eye. But no amount of 'prettiness' will make up for boring, sloppy or inadequate copy.
You want to make readers feel comfortable that your business has the right tools to meet their needs. So fill your brochure with enough relevant information to help your readers make a buying or enquiry decision. The idea is to leave your readers with the impression that they have learned something of value to them.
6. I've lost count of how many times I've come across brochures that fail to include critical contact information. One of my clients, who sent in an otherwise perfectly good brochure for a critique consultation, didn't have a phone number listed. Nor an address. Nor a website URL…
By omitting your contact information you are making your potential customers work harder to do business with you. And the majority won't even bother to find out how to get in touch.
Even if you send your brochure to a current client upon request, he or she might forward it on to someone who doesn't know you. So be sure to include ALL your contact information on every brochure.
7. Finally, the one element that most people leave out but is perhaps the most crucial is a testimonial. As well as supporting your claims, good, genuine testimonials can do more for your sales than any fancy feature or stats. So be sure to include at least one.
By steering well clear of the fatal mistakes and incorporating the guidelines presented above, you'll be well on your way to creating a brochure that presents your business in a more positive light . . . and serves as a sales-generating client magnet time and time again.
Adapted from Creating Direct-Response Brochures that Win Business.
By Tracey Dooley, Copywriter | Editor | Proofreader
 There's always room for improvement. If you would like to increase your marketing ROI, get me to review your marketing materials and add a bit of zing and power. Alternatively, I can create copy from scratch for you. Simply get in touch — I'd love to help where I can.
(Why struggle needlessly when you can get expert affordable mentoring and have fun attracting clients easily?) 
(C) 2008-17 T Dooley, All Rights Reserved
================================
Add my RSS feed to your reader now so you never have to miss a post.
================================
Want to use this in your ezine, blog or website? No problem! Just let me know. I'll send you a short resource box/bio to include.